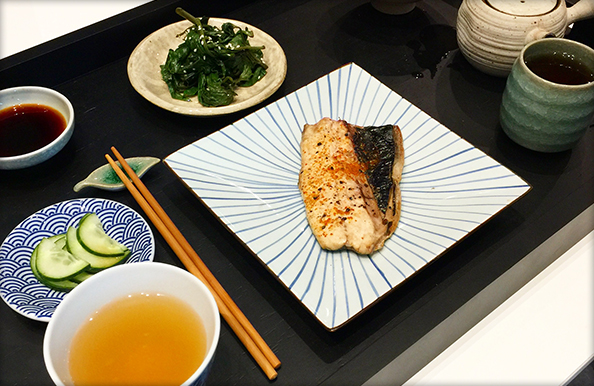 I've always been fascinated with the classic Japanese breakfasts served in the Ryokans, or Japanese bed and breakfasts. This is my Filipino version of that. It gives you a great start to the day as it is a nutritionally-complete meal. Of course, any fish can be used to replace bangus, but a fattier fish woould be best for this meal.
Ingredients (serves 2)
2 large fillets, bangus belly, about 100-150 g each
2 tbsps spicy coconut vinegar
2 tbsp virgin coconut oil
4 cups kang kong leaves, washed and tough stems removed
2 cloves garlic, minced
1 tsp sesame oil
2 tbsps miso paste
1 small daing na bangus or besugo
2 cups of Japanese rice, steamed
2 tsps togarashi pepper or furikake (optional)
2 tsps of sesame seeds (optional)
salt and pepper to taste
Directions
Season the bangus belly fillets with salt, pepper, coconut vinegar and coconut oil. Let stand for 5 minutes.
Meanwhile, fill a pot with the daing, miso and 3 cups of water. Bring to a boil and simmer.
Place the bangus belly under the broiler or in the oven toaster for 10 minutes or until fully cooked.
Meanwhile, in a pot of simmering water, blanche the kang kong leaves for 1 minute. Remove from the water and season with salt, pepper and sesame oil.
Remove the daing from the soup and stir well.
To assemble, garnish rice with togarashi or furikake. Then on another plate, place the kangkong and top with sesame seeds. On another plate, place the bangus belly and pour some miso soup into a small bowl. Arrange all the plates and bowl artfully on a tray before serving.