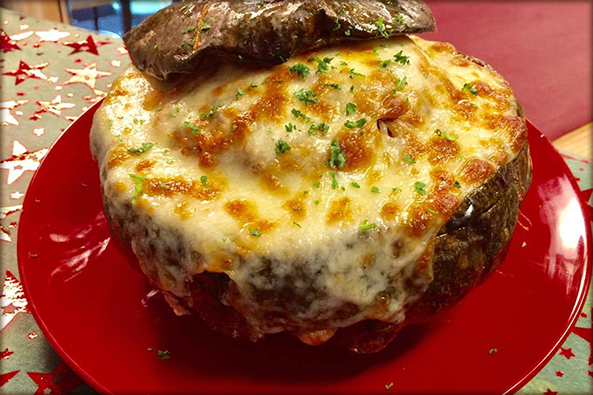 I always want one "centerpiece dish" during a holiday meal, and this is definitely an affordable one to make. The classic combination of squash, bagoong and rice evokes positive memories for the Filipino palate and isn't that what the holidays are about?
Ingredients (serves 4-6)
1 or 2 small squash
1 tbsp dried sage
1 tsp dried thyme
500 g ground pork
2 eggplants, chopped
2 cloves garlic, minced
4 tbsps bagoong
2 cups cooked rice
2 cups mozzarella cheese, grated
8 tbsps olive oil
salt and pepper to taste
parsley, chopped for garnish.
Directions
Slice the top off the squash and using a spoon, remove all the seeds.

Season the squash with salt, pepper, thyme, sage and 4 tbsps of olive oil.

Roast the squash at 185 degrees C for 30 minutes or until soft.

In a wok, saute the pork in the remaining olive oil.  

Once dry, add in the garlic and eggplants.  Cook for 2 minutes.

Add in the bagoong and saute for a minute more.  Then, add in the rice and mix well.

Stuff the squash with the pork and rice mixture.  Top with cheese.

Bake the stuffed squash until the cheese is golden brown.

Garnish with chopped parsley.