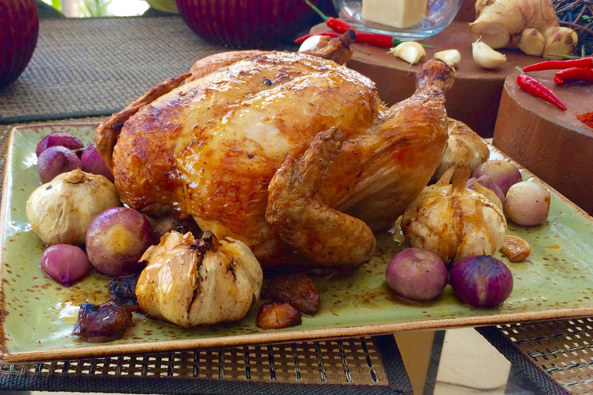 They say any cook worth his or her salt is judged by their roast chicken, so here you go. This is my favorite Roast Chicken recipe and it's real simple too. Recipe would work with chicken cut up in pieces if you're in a hurry, but roasting the whole bird is much better.
Ingredients (serves 4)
1 whole roasting chicken
3 tbsps paprika
2 tsps dried sage
100 g unsalted butter
8 slices ginger
16 cloves of garlic
4 siling labuyo
2 stalks lemongrass
10 sibuyas tagalong, peeled
4 tbsps olive oil
1 large lemon, cut into 8 wedges
Salt and pepper
Directions
Season the chicken with salt, pepper, paprika and sage on the outside and inside.  Stuff the chicken with 2 lemon wedges, lemongrass, siling labuyo and ginger

Rub the butter all over the chicken and underneath the skin.  Place chicken on a baking tray and surround it with the garlic and sibuyas tagalong.  Season the vegetables with olive oil and salt and pepper.   

Roast chicken in the oven at 180 degrees C for the 1

st

20 minutes and then 200 degrees C for another 20.

Serve the chicken whole and carve tableside with the roasted vegetables and lemon wedges.