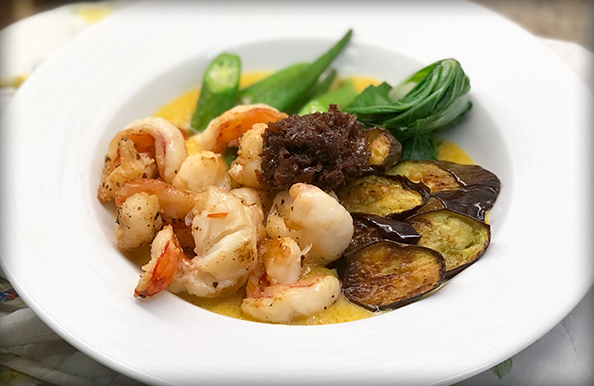 Kare Kare is one of those magical Filipino dishes that just oozes comfort. Of course, not everyone has the time to braise ox tails and tripe, so using seafood is also a great way to enjoy Kare Kare in a fraction of the time. This is my quick version.
Ingredients (serves 4)
8 large prawns, shells and vein removed
8 tbsps vegetable oil
2 tbsps rice flour
800 ml water or stock
2 tbsps annatto seeds
4 stalks petchay or bokchoy, cut in half
4-6 stalks of okra
1 eggplant, sliced into disks
1/2 cup of peanut butter
4 tbsps bagoong
salt and pepper to taste
Directions
Combine annatto seeds and water and mix until the liquid turns red. Strain and set aside.
Cook the petchay and okra in a pot of boiling water for 2 minutes and then transfer to ice water to preserve the color of the vegetables. Set aside when cool.
In a saute pan, fry the eggplant disks in 4 tbsps of oil until golden brown. Set aside.
In the same pan, add the remaining oil and fry the prawns until cooked, about 2 minutes each side. Set aside.
Add the flour to the pan and mix with the oil, cooking the mixture until it turns a light brown. Add in annatto liquid and simmer for 5 minutes.
Season the liquid with salt and pepper. Lower the heat and add in the peanut butter. You may add more peanut butter if a thicker sauce is desired.
To serve, pour the sauce onto the serving platter and arrange the vegetables and prawns in a decorative manner. Top with bagoong.