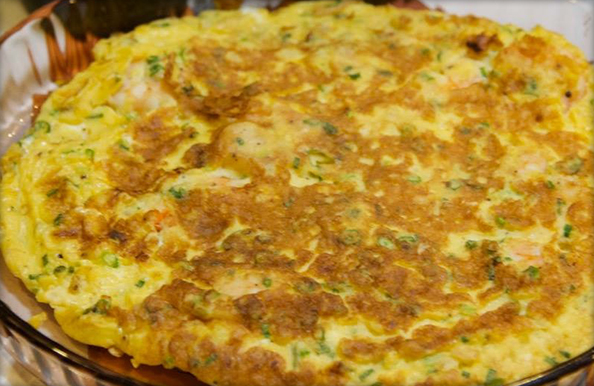 I am never sure where to get fresh oysters in Manila so I used shrimps for this recipe. You are welcome to use oysters or even fish or clams with this recipe too. Adding potato starch slurry to the eggs helps give them a chewy texture.
Ingredients (serves 4)
600 g small prawns
6 large eggs, beaten
6 sibuyas tagalog, (shallots)
1 clove garlic, minced
1 cup kang kong leaves
1 tbsp potato starch dissolved in 1 tbsp of water
3 tbsps vegetable oil
Salt and Black pepper to taste
Cilantro leaves for garnish
Catsup or hot sauce (optional)
Directions
Using a paring knife, clean the prawns and slice in half lengthwise. Slice the shallots thinly.
In a pan, heat up the oil to medium and saute the prawns, shallots and kang kong leaves. Season with salt and pepper.
Add in the beaten eggs and shake pan until the whole pan is covered in egg. Add in potato starch slurry.
Flip the cake to cook the other side. Garnish with cilantro leaves or catsup for garnish.