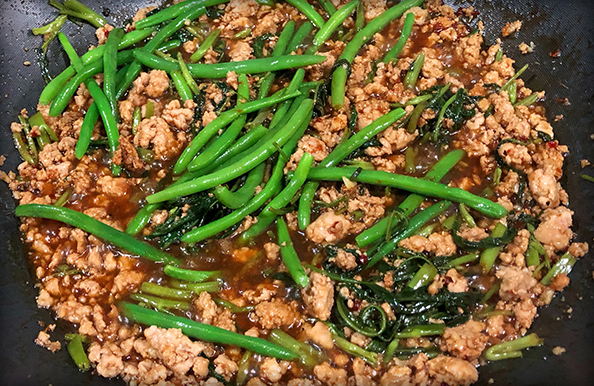 Sometimes, you take the help when you can. This recipe is so simple because using store bought sweet chili sauce helps create the main flavor balance you need to make the recipe. As usual, any of the protein or vegetables can be easily replaced with what's available. It's the perfect recipe to help clean out the ref.
Ingredients (serves 4)
400 g ground pork
200 g green beans with the ends trimmed away
2 handfuls of kang kong, washed
2 cloves garlic, minced
1 thumb-sized pc of ginger, minced
1/2 cup sweet chili sauce
2 tbsps soy sauce (or more to taste)
1/4 cup shaoxing wine (optional)
2 tbsps vegetable oil
salt and pepper to taste
Directions
Cook green beans in boiling water for 2 minutes and then transfer to ice water to keep the color bright green. Set aside once cold.
In a wok or frying pan, cook the pork in the oil for 3-4 minutes. Season with salt and pepper.
Add in garlic and ginger and cook until fragrant. Add in the kang kong leaves and cook for 2 minutes more.
Add in wine (if using), soy sauce and sweet chili sauce. Mix well and simmer for 5 minutes.
Add in the green beans. Mix well.
Serve over rice.