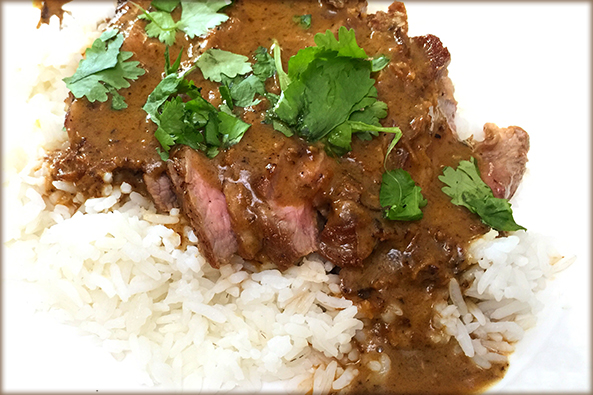 Trying out the Nasi Kandar for the first time, I was amazed at how I loved all of the flavors, even as the rice was so drenched in the numerous gravies ladled over it. Despite the dish and the restaurant being in such a mess, there was something so comforting about rice swimming with sauce, that is was unnecessary to ruin it by worrying about plating. This dish is inspired by Nasi Kandar and I encourage you to drench your rice with the gravy too!
Ingredients (serves 4)
4 tenderloin steaks, about 180-200 g each
2 tbsps olive oil
8 tbsps butter
1 small nob ginger, grated
1 small nob of galanggal, grated
2 cloves garlic, grated
1/2 grated coconut
4 tbsps flour
2 cups water
1 chili (optional)
1/2 cup coconut milk
salt and pepper to taste
Directions
In a pot, saute in 4 tbsps of butter the ginger, galanggal, garlic and coconut until toasted, about 2 minutes.

Add in the flour and cook until brown.

Pour in the water and simmer for 15-20 minutes.

Season the steaks with salt, pepper and olive oil.

Grill the steaks to medium on a grill pan.  Place remaining butter on top of the steaks while letting it rest.

Season the sauce and then pour in coconut milk.  Strain the gravy.

Serve the steak on top of rice and pour gravy liberally over everything.