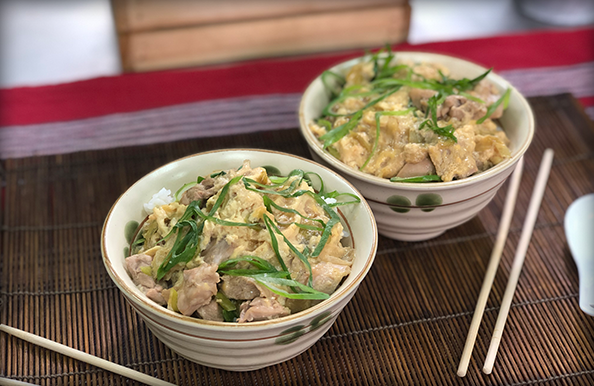 I asked 2019 SEA Games gold medallist Jamie Lim about her favorite cuisine, and she quickly answered, "Japanese." Knowing she would be coming from training straight to our interview, so I figured she needed a filling rice meal that's pretty healthful for a quick recovery. This recipe's a favorite of mine since it's so easy to prepare. If you love katsudon, the sauce and egg procedure are the same and just pour them over a breaded pork chop and you got katsudon.
Ingredients (serves 2)
400 g boneless chicken thighs, cut into strips
250 ml dashi or chicken broth (water is fine too)
2 tbsps sugar
2 tbsps soy sauce
2 stalks leeks, sliced thinly with white part and green part separated
4 eggs, beaten well
2 cups cooked rice 
Directions
Directions:
In a sauce pan, combine dashi, white part of the leeks, sugar and soy sauce and bring to a boil. Simmer for 3 minutes. 

Add in the chicken and let simmer for 3-4 minutes. 

Pour in the beaten eggs all around the pan. Cover and let simmer for 2 minutes. 

Add in half of the sliced leeks. Scoop the chicken, egg and sauce mixture over the cooked rice.  

Garnish with more leeks and serve piping hot.