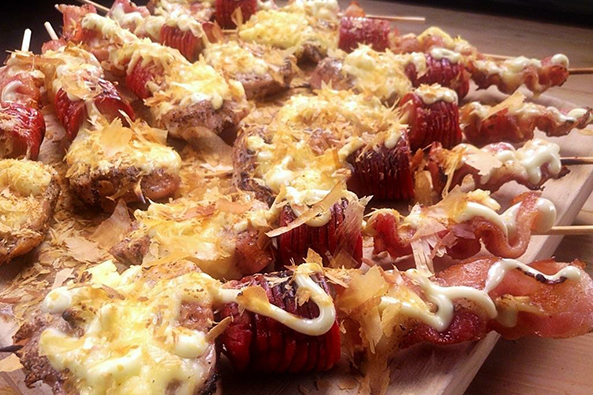 This is one of those dishes that is less about culinary technique and more about full on flavor; that's why this is a perfect comfort food dish that can be the perfect drinking or hangover snack after a hard day's work. Each of the proteins can be easily exchanged with beef, fish or even shrimp.
Ingredients (serves 2)
400 g whole pork tenderloin
2 large hotdogs
6 strips of bacon
1/4 cup quikmelt cheese
1 tbsp wasabi paste
2 tbsps Japanese mayo
1/4 cup bonito flakes
salt and pepper to taste
12 skewers
Directions
1. Cut the pork tenderloin and hotdogs into bite sized cubes. Season the pork tenderloin with salt and pepper.
2. Place a piece of pork tenderloin, a piece of hotdog and half a slice of bacon onto each skewer.
3. Grill the skewers over medium heat. Once the first side is cooked, turn the skewers and top with cheese. Cook until cheese is melted.
4. Combine the mayo and wasabi.
5. Serve the skewers with the sauce on top and top with bonito flakes.