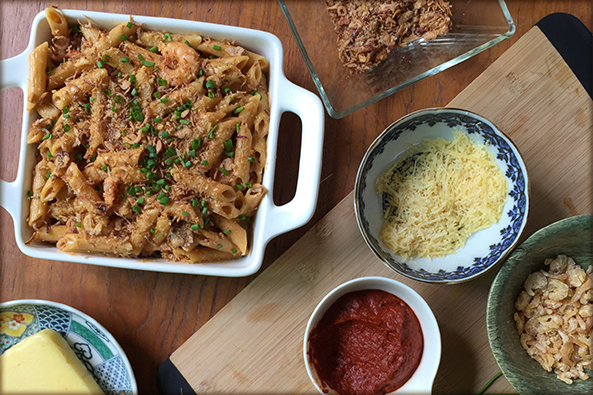 I cooked for my friend who had hosted me while in Penang and I thought he would love something not so traditional. Inspired by the Laksa I had in Singapore, I tried my best to create a broth as close to the traditional laksa as possible and then make it a sauce for mac and cheese. Macaroni or Penne would work great with this recipe and of course, your choice of cheese as well.
Ingredients (serves 4)
250 g suahe shrimp, peeled, skins set aside
1 kg clams, washed
1/2 cup dried small shrimp (hibe)
1/2 cup chili paste
2 cups coconut milk
1/2 cup evaporated milk
250 g macaroni
1 cup cheddar cheese
1/4 cup parmesan cheese
1 cup mozzarella cheese
2 tbsps oil
salt and pepper to taste
Directions
In a pot, saute the small shrimp, clams and shrimp shells in oil. Pour in 1 cup of water and cover to cook clams.
Remove the clams once opened. Remove clam meat and set aside.
In the broth, add in the coconut milk and chili paste. Simmer for 10-15 minutes, stirring every once in a while.
Cook the pasta in boiling water for 6-7 minutes. Add in the shrimp at the final minute.
Strain the broth. Combine the cooked pasta shrimp, clam meat, the broth and the cheddar and parmesan cheese and mix well.
Place the pasta in a baking dish and top with mozzarella and broil until cheese is golden brown.