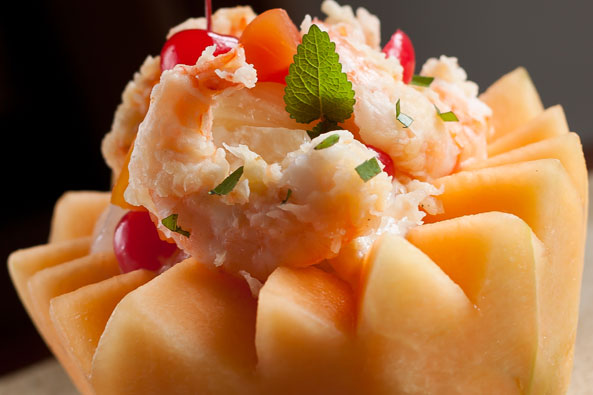 Ingredients (serves 4)
8 pcs suahe shrimp
1 cantaloupe melon
1 can of fiesta fruit cocktail
4 maraschino cherries
2 egg yolks
1 tsp Chinese mustard
125 ml vegetable oil
400 ml oil for frying
1 cup flour
1 egg
Directions
In a mixer (or by hand), mix together egg yolks, mustard, salt and pepper. While mixing slowly pour in 125 ml oil to form a mayonnaise.  Set aside.
Slice melon in half and keep ½ as the container. Slice the other half into cubes.
Mix all the fruits together with 3 tbsps of mayonnaise. Season with salt and pepper.  Keep cool in ref.
In a wok, heat up oil.
Season shrimp and place them in flour and then beaten egg and back to the flour again.
Fry shrimp in oil until golden brown. Season with salt and pepper.
Assemble salad by placing the fruit mixture into the half melon and top with the fried shrimp.