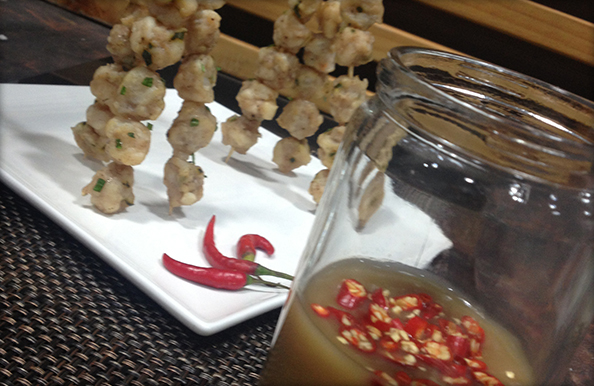 Who doesn't love fishballs? In the Philippines, you'll be hard pressed to find people who don't love the street food favorite, especially with the brown, sweet and spicy sauce. That's why I thought of making some homemade fishballs. It's definitely easy to make and you can choose to fry them instead of steaming them, but I think the steamed ones are good!
Ingredients (serves 6)
For the Fishballs:
1 kg white fish fillet
3 cloves garlic, roughly chopped
1/8 cup cilantro leaves
1 tbsp five-spice powder
For the Sauce:
50 g muscovado sugar
250ml fish or shrimp broth
2 sprigs of tarragon leaves, chopped
2 tbsps corn starch mixed with 2 tbsps water
2 sili labuyo, chopped
salt, white pepper and cayenne pepper to taste
Directions
In a food processor, combine fish fillet, garlic, cilantro, and tarragon. Season with salt, pepper, five spice powder and cayenne pepper to taste.
Form the fish mixture into balls the size of ½ of a ping pong ball. In a pot, steam the fishballs for 3 minutes.
In a pot, cook the sugar with a touch of water to make a dark brown caramel. Pour in fish stock and chopped tarragon and sili labuyo. Simmer for 10 minutes.
Pour cornstarch mixture little by little into the sauce to thicken. Sauce may be strained to control the spiciness.