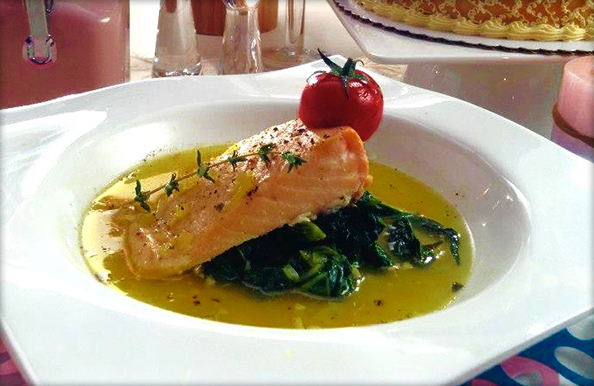 If you're looking for something healthful to eat, this would be a good choice. I cooked a version of this for the diplomatic community in UAE and it was well received. It's almost a less sour version of the Filipino classic Sinigang na Salmon sa Miso but the flavors are very light and subtle. Kangkong leaves can be cooked in the broth too to minimize oil.
Ingredients (serves 4)
4 skinless, boneless salmon fillets, about 100 grams each
½ cup dried green rice tea
4 cups Kang Kong leaves, washed and thick stems removed
2 tbsps miso paste
1 tbsp onions, minced
1 tsp garlic, minced
1 cup hugas bigas (rice water)
1 calamansi
1 tsp thyme leaves
2 tbsps olive oil
8 cherry tomatoes
salt and pepper
Directions
In a steamer, pour in green rice tea leaves on the bottom part and place over low heat.

Season salmon fillets with salt and pepper and place on the upper part of the steamer.

Once leaves start smoking, place the upper half of the steamer on top of the bottom part and smoke fish over low heat for 10-15 minutes or until fish is fully cooked but not dry.

In a pot, saute garlic and onions until fragrant.  Add in miso paste and thyme leaves and cook for another 1

½

minutes.  Pour in hugas bigas and simmer for 10 minutes.  Season to taste. Squeeze calamansi juice to finish the sauce.

In a saute pan, saute kang kong leaves in olive oil and season with salt and pepper.

To serve, place a mound of kang kong in the center of the bowl.  Place salmon fillet on top and pour the sauce over them.