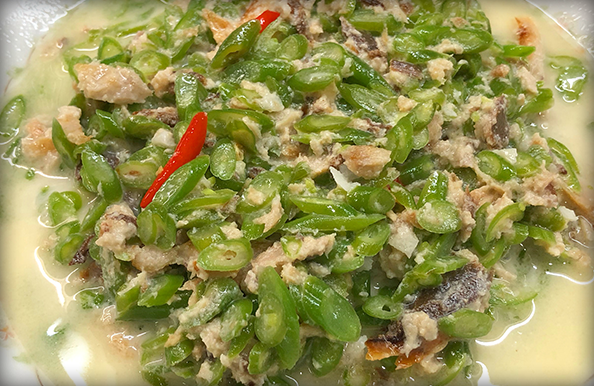 Gising Gising has been a favorite Filipino dish of mine for the longest time, and it's the only time I truly enjoy green beans. You can also substitute the green beans with chopped wing beans (sigarilyas) or kang kong stems. Meanwhile, you can utilize any smoked fish or meat to build flavor. I once used smoked halibut when I was making this dish in Moscow!
Ingredients (serves 4)
200 g smoked fish meat, cut into small chunks
4 cloves garlic, minced
500 g green beans, sliced thinly crosswise
2 siling labuyo (or any chili pepper), chopped
2 cups coconut milk
2 tbsps vegetable oil
salt and pepper to taste
Directions
In a pan, saute the smoked fish and garlic in the oil for 2 minutes.
Add in the green beans and stir fry for 2 minutes.
Add in labuyo chilis and coconut milk. Add a touch of salt and pepper to start.
Simmer the green beans for 7 to 10 minutes, depending on how crunchy you like the texture to be.
Serve hot on top of white rice.