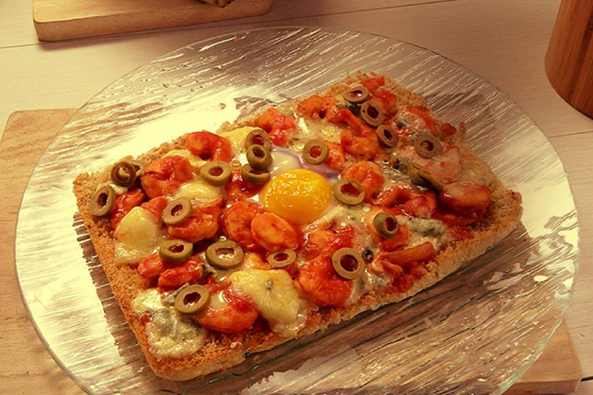 If you're tired of the usual pizza, this is definitely the answer for you. Shrimp and bleu cheese may not be a usual combo, but together with the runny egg, makes for a great dish. It's a great way to introduce bleu cheese to beginners, but you can replace that with a milder cheese if desired.
Ingredients (serves 4)
400 grams suahe shrimp, shelled
2 onions, sliced thinly
4 cloves garlic, sliced thinly
¼ cup green olives, sliced
2 tbsps tomato sauce
2 tbsps balsamic vinegar
100 g blue cheese
1 whole piece focaccia bread, sliced in half
2 tbsps olive oil
salt and pepper
Directions
1. In a saute pan, caramelize onions and garlic in olive oil over medium heat. Add in shrimp and saute until half cooked.
2. Deglaze with balsamic and tomato sauce.
3. Top focaccia halves with the shrimp mixture. Crumble the blue cheese over the top and top with green olive slices.
4. Bake at 200 degrees C until bread is toasty and cheese is melted.