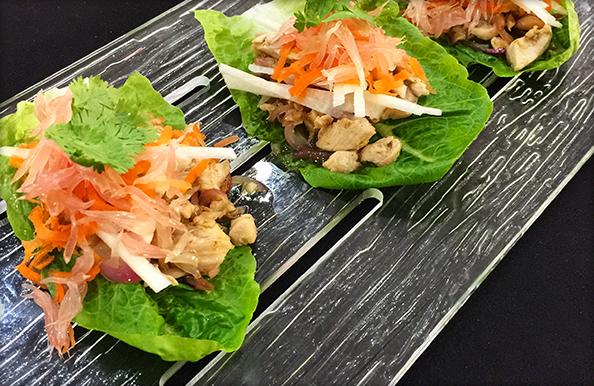 This is a recipe perfect for the summer when you have a lot of fresh vegetables available. the colors and textures you have with this recipe will be a life saver during the very hot afternoons. Pretty good for you too!
Ingredients (serves 4)
500 g chicken breasts, cut into thin strips
1 red pepper, cut into strips
1 small carrot, grated
1 half small jicama, cut into thin strips
1 pomelo, meat cut into small pieces
1 large head of romaine lettuce
1 red onion, sliced thinly
1 clove garlic, minced
1 tbsp fish sauce
2 tbsps sesame seeds, toasted
2 tbsps coconut vinegar
1 tbsp sugar
3 tbsps cooking oil
cilantro leaves for garnish
Directions
Wash the romaine lettuce and separate the leaves one by one.
In a pan, saute the chicken in the oil for 1 minute. Add in the onions, garlic and peppers and saute until fragrant.
Add in the vinegar, fish sauce and sugar. Stir fry until the chicken is fully cooked, about 2 minutes.
Fill each lettuce leaf with the chicken, some carrots, jicama and pomelo. Top with cilantro and serve immediately.