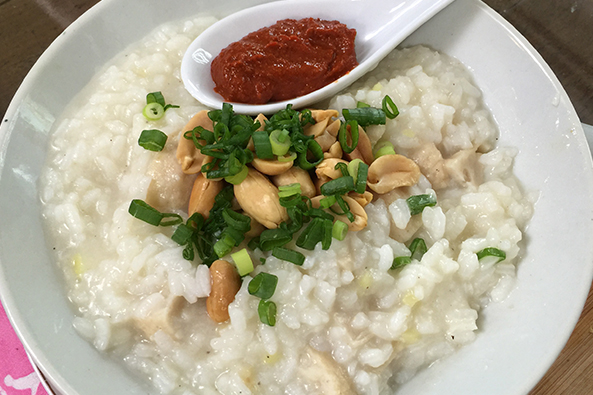 There is truly something comforting about a bowl of rice porridge. With the flavors of ginger and lemongrass, this particular recipe is both flavorful and light and also very affordable! Fish balls can easily be replaced with squid balls or even crab sticks.
Ingredients (serves 4)
200 g short grain rice
1 large nob of ginger
2 stalks lemongrass, chopped
2 cloves garlic, minced
1.5 liters of chicken or fish stock
12-16 pcs fish balls
green onions and peanuts for garnish
2 tbsps oil
salt, pepper and chili paste to taste
Directions
In a pot, combine 200 g of rice and 1 L of stock.  Bring to a boil and then simmer for 15 minutes.

In a pot, saute the lemongrass, ginger and garlic in the oil for 1 minute or until fragrant.  Add in 500 ml of the stock.  Simmer.

Once rice cooks for 15 minutes, strain the lemongrass and ginger broth into the cooking rice.  Add in the sliced fishballs and cook until the rice is fully cooked and soft.

Season the porridge with salt and pepper.  Garnish with chili paste, peanuts and green onions.