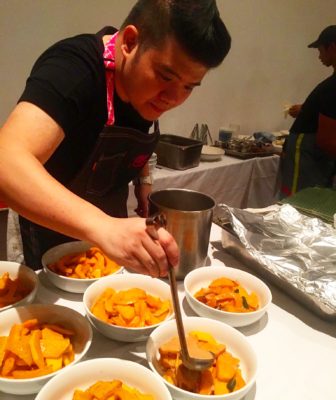 I Hate You Numbers!
I've never been good with numbers; I barely passed Geometry and Trigonometry in high school. So it wasn't a surprise when I gave myself a scare as I was buying my plane ticket to Portland. Principal photography and voiceover recordings for my latest season of Curiosity Got the Chef would end on September 12th, so I could only leave for the US on the 13th. Oh no. Would I get to Portland in time? The Whiskey Pig Dinner I was invited to cook at was on the 14th and it would take me at least 20 hours to get there. A sinking feeling began to creep in. I don't want to miss an opportunity cooking with Chef Carlo Lamagna and Filipino Kitchen. The ladies of FK are family and they vouched for Chef Carlo. Add in the chance to work with the other guest chefs, Alvin Cailan and Isa Fabro, 2 awesome chefs who have made a name for themselves in California, and the anxiousness just got stronger. I needed to cook for this dinner and I needed to find a way to freeze time somehow.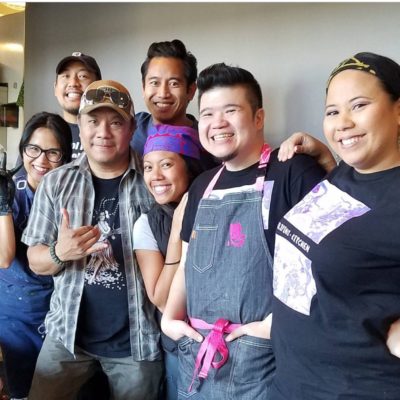 Oh wait. Facepalm moment! I would gain a day back flying to US! Flying on the 13th from Manila, I would arrive in Portland on the 13th as well. Sure, prep would be a huge problem, but nothing I couldn't handle. I happily clicked on "Purchase" and I began coordinating with the chefs about the menu.
On the menu
The centerpiece of the Whiskey Pig Dinner would of course be the pig. Chef Carlo would be roasting whole Mangalitsa Hogs to make Lechon. He asked us to provide the sides. I was happy to make one dish; I was, after all, a late addition to the chef line up. Then I get the email to make 4 dishes; he was planning 14 dishes in total. My kind of guy.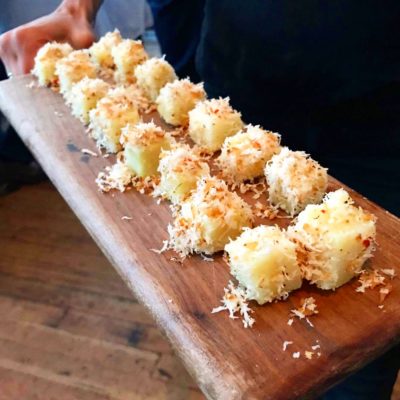 For pass around appetizer, I wanted to represent Mindanao. My mother is from Davao and my Mindanao side has been screaming to be recognized for years now. I draw on my previous trip to Tagum and a dish I learned from Lani of Iho Resorts Davao. Sinara is steamed root vegetable (like a sweet potato) served with a curious mixture of dried fish, shredded coconut and chilis.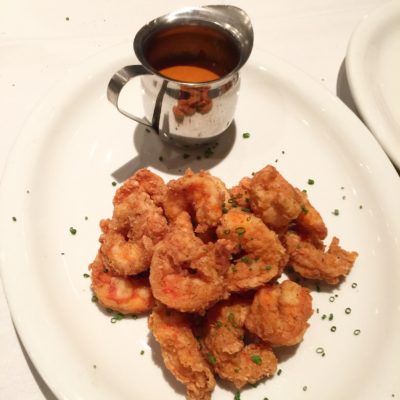 For appetizer, I saw the need to represent my Chinese Filipino heritage, so I made Camaron Rebosado with Fresh Banana Catsup. Fried Spiced Shrimp, almost like shrimp popcorn, would be served with the banana catsup I've been making for years. It would be interesting to see how Portland would react to a catsup that isn't made from tomatoes.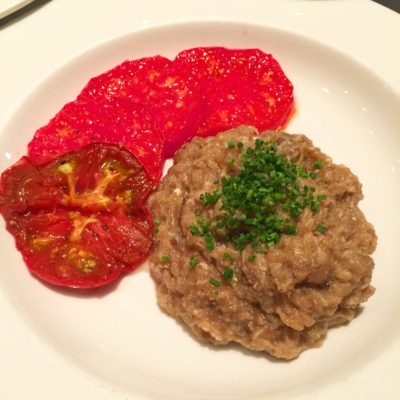 The sides to the lechon, in my opinion, needed to make sure the lechon would shine like the star it needed to be, so I wanted to make a Poqui Poqui, charred eggplant and egg which I would make more like a Baba Ganoush, to serve as an extra sauce or paste to pair with the lechon meat. For the second side, I wanted to highlight the coming of fall, keeping in mind the US had four seasons. GInataang Kalabasa using butternut squash, coconut milk and bagoong (shrimp paste) would be a great addition to any Filipino dinner, let alone one with lechon.
Hello PDX
Arriving in Portland, I knew I wanted to prep as much as I could, so I headed straight to the pop up venue once I landed. Upon arriving at Clyde Commons, though, I knew I had no reason to rush. Chef Carlo, the ladies of FK and Carlo's dynamic duo of Dante and Kevin awesomely started prep for me. When I set down my bags in the kitchen, my shrimp was already peeled and deveined. Chef Carlo insisted I sit back and chill. I coud start working tomorrow.
He takes me up to the dining room and we talk about where to plate and where the diners would be seated. We then take a seat and shoot the breeze. I pick Chef Carlo's brains on Filipino food and what his plans are. His passion is inspiring and contagious. Portland is lucky to have him and I'm excited for his new restaurant, Magna, coming in spring of 2018.
Cooking Time
Apparently, I don't get jet lag going to the US. After a solid night's sleep and a tasty breakfast, Natalia, and Sarah of FK and I headed to the venue to start prep. Dante, Kevin and Chef Carlo were there to help, plus Jun, another Filipino chef rocking pop ups in Portland were all ready to help. Mel, Chef Carlo's cousin also flew in to help. By the time the afternoon rolled along, I stopped to realize this was one of the easiest pop up preps (for 70 guests) I had done. I had so much help from everyone that I was barely tired!
As with any pop up, when your prep is smooth and easy, the dinner follows suit. The food was wonderful. Every dish, from Chef Isa's Pan de Sal with Ube Butter to my Camaron to Chef Alvin's Vegetarian Kare Kare to Chef Carlo's Pancit was a huge hit and by the time tea and dessert were served, I knew we had given Portland a Filipino feast they would remember and talk about. In a huge food and wine festival like the Feast, where there are food events crawling out of your ears, that is something to crow about.
Director's Cut Special Features
How cool is it that in between prepping I got to have lunch with comedian Rex Navarete? Apparently he

'

s convinced that Big Foot is real. You

'

ll find him Rex. I believe in you.

Rolling with Chef Carlo in Portland was so much fun that there

'

s stuff I wouldn

'

t or couldn

'

t mention here; there was some singing and shouting involved. I actually tried to steal one of Chef Chris Cosentino

'

s tomahawk steaks, for example.

I had so much fun with Chef Carlo and the crew that I gladly helped them with their Feast Night Market event the following day. I would love to tell you how that went, but we served over a thousand people that day, at one point 5 of us plating non stop for 2 and a half hours, so I don

'

t remember much.

I ate my first crawfish in Portland, made all the more interesting by the side comments from Chef Carlo and Mel. I don

'

t know if I can ever enjoy crawfish the same way again without them giving commentary.
I owe Filipino Kitchen a lot for this opportunity (and a long list of other things), including introducing me to Chef Christina Tosi. I was fanboying so hard, that instead of just saying hi, I mentioned to her that we were on a billboard together along Edsa, which she was really excited about, thank goodness. She's super nice in real life, by the way, in case you're a Masterchef fan.