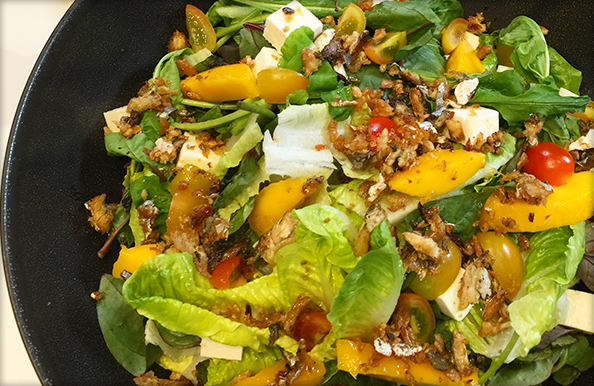 If you've never tried a cold salad with a warm dressing before, you've been missing out. Try this one and you'll see why I say that. The contrast in temperatures and also in textures, makes this salad really fun to eat. If you're allergic to fish, replace the tinapang bangus with bacon and it works reallly well too.
Ingredients (serves 4)
2 cups romaine lettuce
1 cup arugula
1 cup alugbati
1 cup kamote tops
1 small red onion, sliced thinly
150 g kesong puti, cut into cubes
8 cherry tomatoes, cut in half
1 medium sized tinapang bangus, flaked
2 cloves garlic, minced
1/3 cup extra virgin olive oil
1/4 cup coconut vinegar
1 ripe mango, sliced thinly
Directions
Assemble the salad by combining all the greens, the cheese, tomatoes and onions.
In a pan, combine the olive oil and tinapa flakes and cook until crispy. Add in garlic and cook until brown.
Add the tinapa flakes onto the salad, leaving the oil in the pan. Place the pan back on the flame and pour in vinegar and mango slices. Season with salt and pepper and mix well.
Pour the warm sauce over the salad and toss well.