The Pledge
Flying into Chicago after our adventures in Portland, Filipino Kitchen (Sarahlynn and Natalia) and I were looking forward to the weekend. The 3rd annual Kultura Festival, hosted by Filipino Kitchen was to be on Sunday. The ladies needed to put the last minute touches on the event preparation while I was looking forward to cooking. Kultura would be the first of 3 US stops where I would cook in the hopes of earning enough money to build the public school library I pledged to build in Davao. Earning extra would help pay for my plane ticket to the US as well, so I wanted to get off to a great start. I knew my chances of success would rely on… vegetables?!?!?
The Turn
I wasn't trying to make a point, really. I mean, I knew I wanted to make my grandmother's Chinoy Lumpia in the form of lettuce cups as one of my dishes. Last year, I did get a number of gluten free requests, so removing the spring roll wrapper would fit the bill. Then, as I got into preparing my grocery list, I realized the recipe called for mountains of vegetables, tofu, and shrimp. I was one ingredient away from making the whole shebang vegan, so I went ahead and replaced shrimps with mushrooms. Look at that. The Bacon Man (namely me) is serving a gluten free, vegan Filipino dish!
Checking the weather reports, we realized that Sunday, the day of Kultura, would be abnormally hot and the ladies made a request. Could I make a cold dessert? The heat would surely encourage people to go for cool and sweet things, and in a strange turn of events, none of the other food vendors planned on making desserts. I've learned in these past 2 years to trust these ladies of Filipino Kitchen implicitly, so I went ahead and planned to make a Ginataang Halo Halo and serve it cool, the way we do at home. I wrote my ingredients down. I would need coconut milk, dessicated coconut, purple yam, glutinous rice balls, bananas and nata de coco. Waaaaaait a minute. That sounds like a vegan dish. How did I end up with the vegan booth in this fair?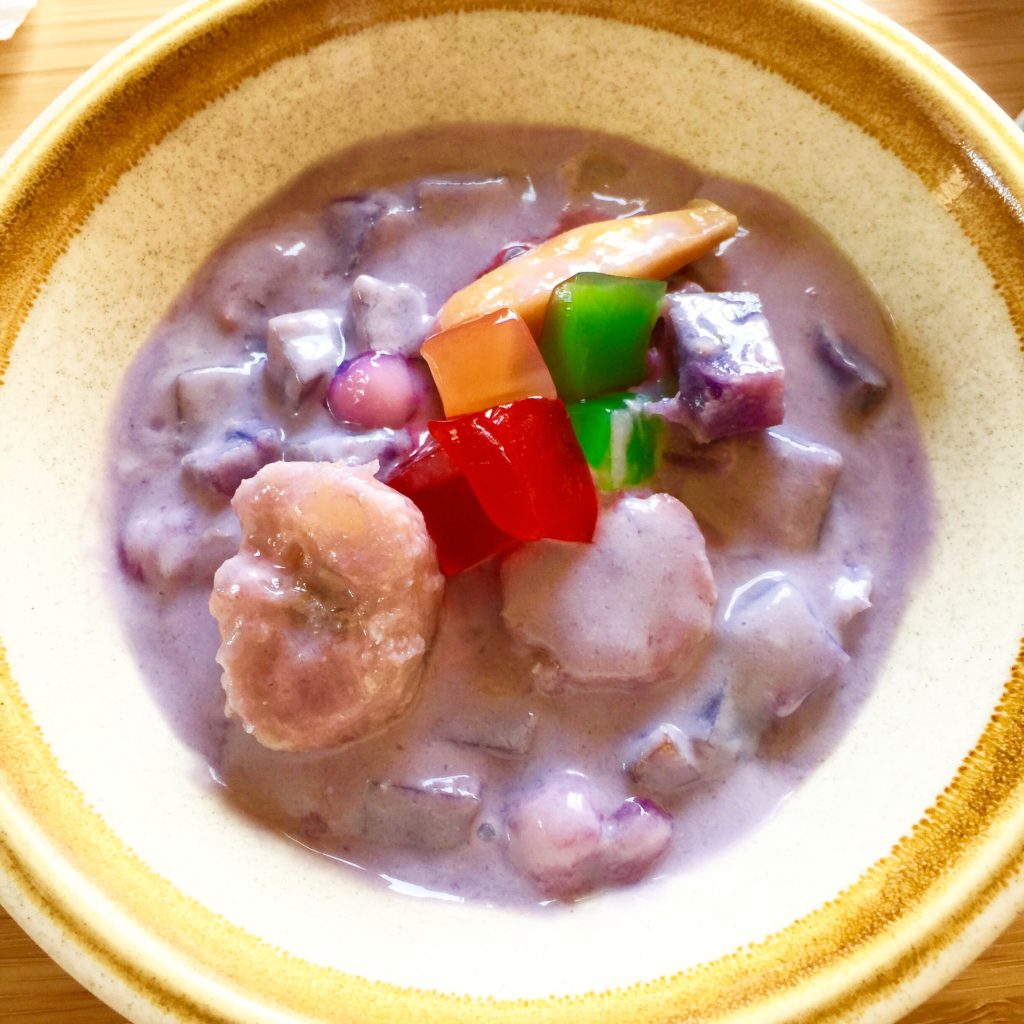 I desperately wanted to make a 3rd dish just so I wouldn't be purely vegan. Ah! My fresh banana catsup was a hit in Portland. Why not serve it in Chicago too? My Okoy would go great with that! Oh wait. My recipe for Okoy is vegetarian too! This cannot happen! I would add shrimps to my batter just to make a recipe non vegetarian, just to make sure Tony Bourdain doesn't appear in my dreams and submit me with a triangle choke.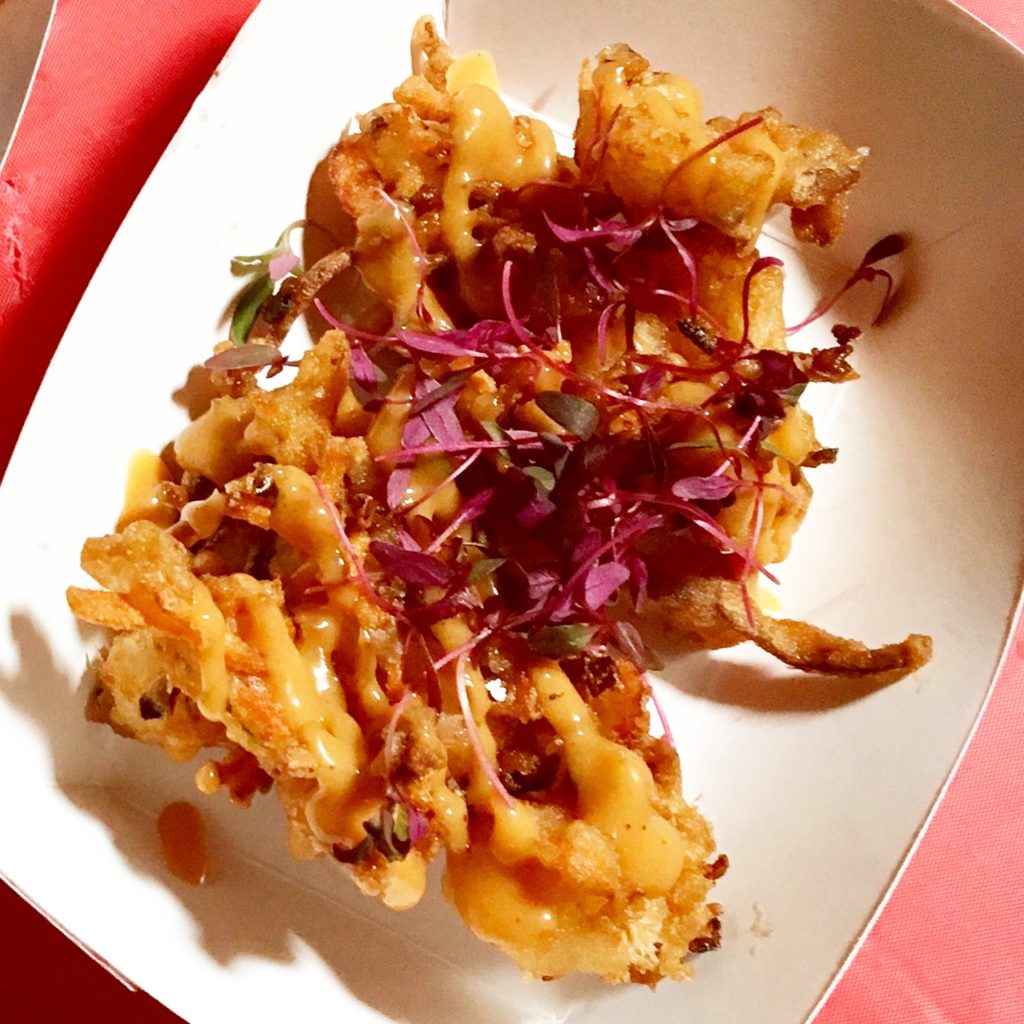 This year, Caitlin was back to assist me, but since we were overworked last year, I knew I needed help. Enter Mel, who also helped us out in Portland. While he valiantly tried to help me ask a nice lady in a Portland coffeeshop out, I needed his kitchen skills in Chicago more than his wing man skills. With Caitlin and Mel, prep became a breeze. Mise en place got done quickly, and we even had time for dinner! The only issue was Mel probably wanted to sue me for making his ears bleed with my kitchen music playlist. Apparently, senti music is not for everybody.
The Prestige
Between the unusual unrelenting Chicago heat, to the various media outlets covering the event, to the hundreds of people that visited the fair, Kultura was a whirlwind of happiness. We managed to sell out all 3 of my dishes and after deducting my costs, I had made a pretty good sum for the library for about 12 hours of work. Not bad. Who knew that making vegan dishes would help me sell out so fast? Maybe I should…
Nah. That was a one time thing Chicago. I'm bringing the pork next time.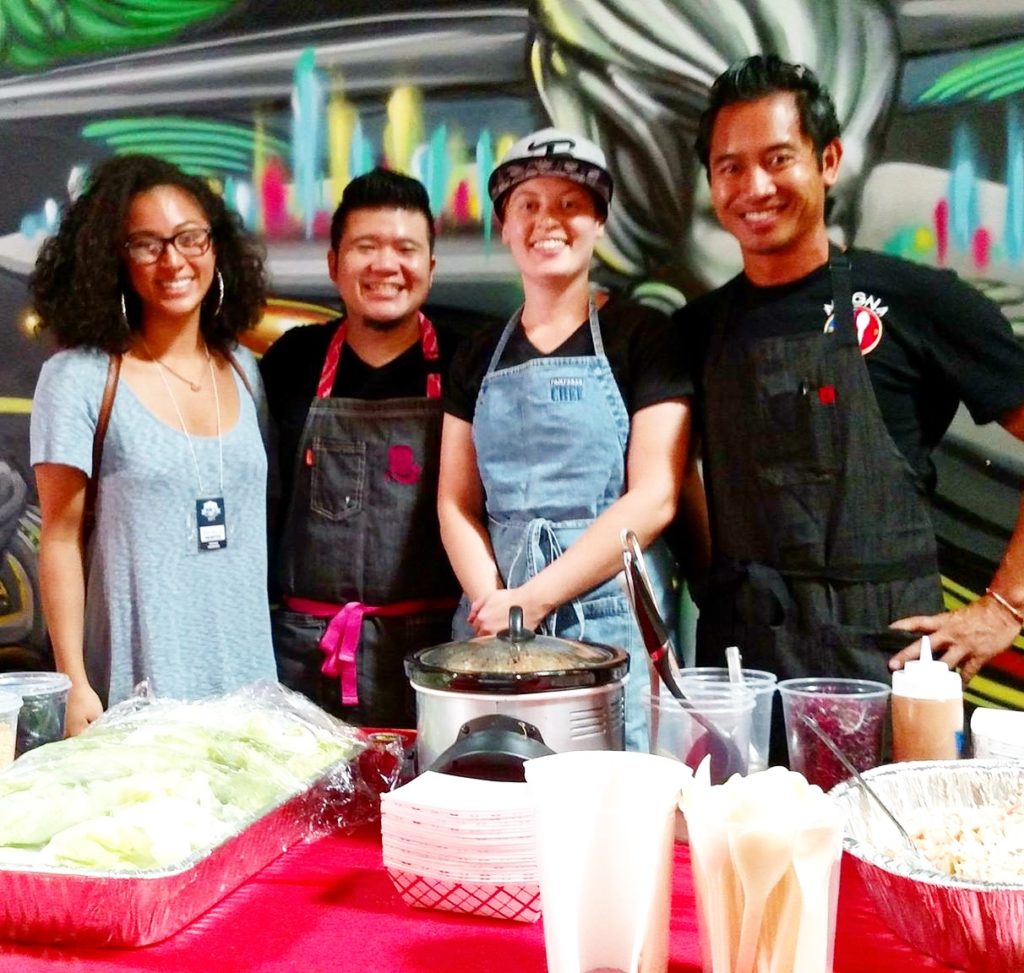 Director's Cut Special Features
Kultura meant hanging out with some really great people again. Lane and Kristian were back, volunteers like Ryan and Mark were back and it was great meeting RV, Shane, Nicanor, Randy, Alecksis, Christian, Malou, Joel, Jake, Dorothy, Alexa, Gil, JR and a host of Kultura volunteers.
Fellow Trekkie Lane and I had to make a concerted effort to get a password that would let us see the premiere of Star Trek Discovery, only to forget all about it after a drinking session.
I was not able to play Mike Tyson's Punch Out at Emporium this time, which disappointed me. Hopefully the machine will still be intact when I go back.