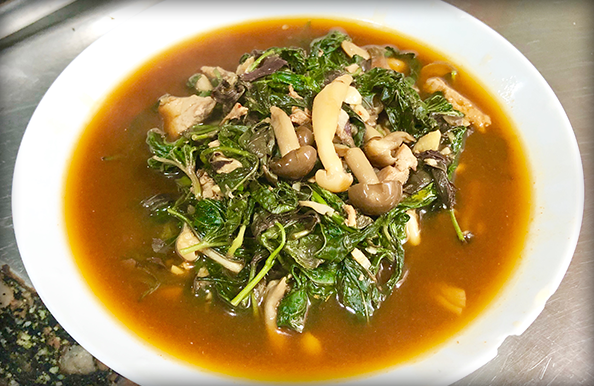 I continue to marvel at how Korean cuisine manages to pack a lot of deep flavors in their dishes despite the relatively short cooking times. In this dish, the hero is the doenjang or fermented bean paste. While using Japanese miso paste is a good substitute, I would recommend getting some doenjang to keep in the house. It can be used for anything!
Ingredients (serves 4)
200 g pork shoulder or belly, sliced thin
200 g shitake or shimeji mushrooms, sliced thinly
2 cloves garlic, minced
1/4 cup soju or rice wine
1 L water
1 tbsp doenjang
1 tbsp gochujang (spicy pepper paste)
2 tsps gochugaru (chili flakes)
2 large bunches of greens (spinach, kang kong, sweet potato leaves, etc)
2 tbsps of vegetable oil
soy sauce, fish sauce and sugar to taste
Directions
In a pot, saute the pork, mushrooms and garlic in the oil for 2-3 minutes or until fragrant.
Add in doenjang, gochujang and gochugaru and saute for 1 minute.
Pour in the soju, lightly scraping the bottom of the pot to get all the brown bits stuck to the bottom.
Pour in the water and let simmer for 5 minutes. Then check the broth for seasoning. Season with soy sauce, fish sauce and sugar to get the right balance you want.
Add in the greens and let simmer for 2 minutes more.
Serve with rice.