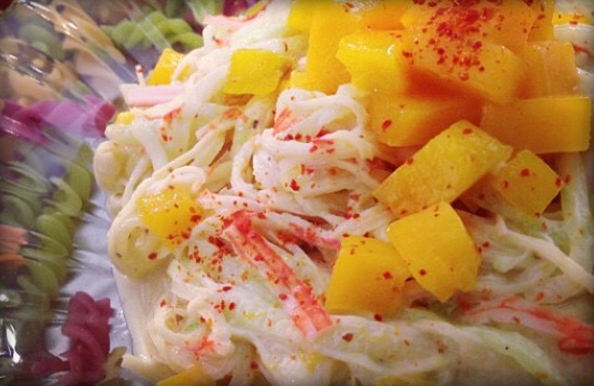 It's my quick take on the ubiquitous crabstick salad you can find in almost all Japanese restaurants in Manila. While I recommend using Japanese mayo, all other ingredients can be replaced. Use shrimp or actual crab instead of crabstick to make this dish more luxurious and of course, use Philippine mangoes when you can.
Ingredients (serves 2)
2 large cucumbers
6 crabsticks, shredded
fresh basil, chopped
1/2 mango, cut into small cubes
1 tsp Dijon mustard
½ cup mayonnaise
salt, togarashi pepper and pepper
Directions
Using a melon scraper, scrape the cucumbers to form noodle-shaped cucumber strips.
In a bowl, combine mustard and mayo and season with salt, togarashi pepper and black pepper.
Toss in mangoes and crabstick.
Top the cucumber noodles with the crabstick mixture and enjoy.