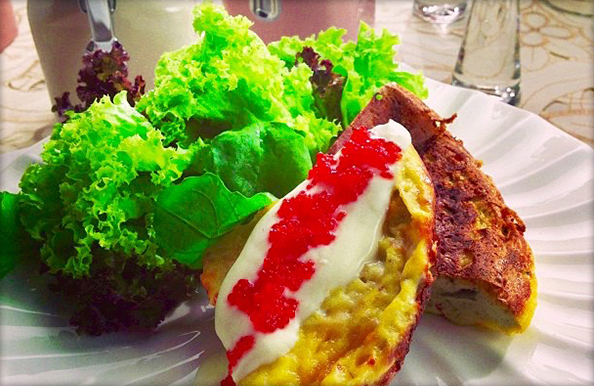 This is a recipe perfect for any meal, but definitely something you should consider if you're cooking someone breakfast in bed. It's also a great way to use up leftover vegetables in the fridge. I used eggplant and red pepper since I was inspired by the Filipino Classic Tortang Talong with Crab. This can easily be turned into a vegetarian dish too. If you do not have an oven, covering the pan and cooking over low heat will work. You just have to watch out for the bottom burning.
Ingredients (serves 3-4)
6 large eggs
¼ cup all purpose cream
3/4 cup fresh crabmeat
½ large eggplant, cut into small cubes
½ red pepper, cut into small squares
¼ cup cheddar cheese, grated
4 tbsps olive oil plus 2 tbsps for salad
1 lemon
3 cups mixed lettuce greens with arugula, chopped
4 tbsps sour cream
4 tsps caviar (optional)
2 leaves of green onions, minced
salt, cayenne pepper and pepper to taste
Directions
In a bowl whisk together eggs and cream.  Season with salt, cayenne and black pepper.

In a cast iron or oven proof pan, saute eggplant and red pepper in 4 table spoons of olive oil.  Add in crabmeat after 3 minutes and season lightly with salt.

Pour in egg mixture and then add the cheese.  Cook over low heat for 2 minutes then finish in a 180 degree oven for 8

–

10 minutes or until middle is set.

Meanwhile, season lettuce greens with salt, pepper, lemon juice and olive oil.

Serve a slice of frittata with some lettuce greens.  Top with dollop of sour cream and caviar if desired.