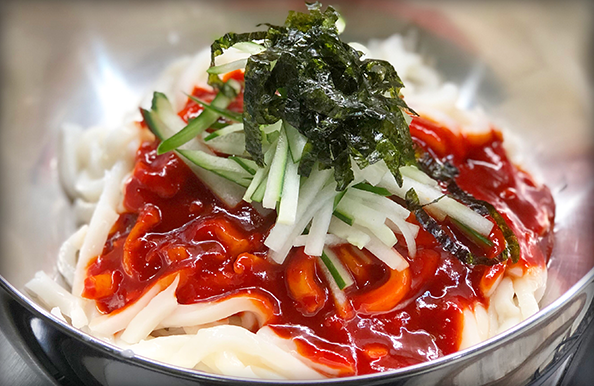 It's always a hard sell, especially for Filipinos to eat a cold main course for dinner, but I think this will be a perfect dish to try in the blistering hot summer. It's flavorful, satisfying and there's very little cooking involved. The plus? It's a blank canvass and you can add any leftover protein, from tuna to chicken to pork to beef, or you can keep it vegetarian!
Ingredients (serves 1)
200 g udon noodles (any noodles will be fine)
3 tbsps gochujang (Korean chili paste)
3 tbsps rice wine vinegar
4 tbsps honey
2 cloves garlic, minced
1/2 large cucumber, sliced thinly
1 nori sheet, cut into thin strips
2 stalks spring onions, sliced thinly
Directions
Cook the noodles in 2 minutes in boiling water and then dunk the noodles in ice water to completely cool them.
In a bowl, combine the gochujang, vinegar, honey and garlic and mix well.
Assemble the dish by topping the noodles with the sauce. Top with the cucumber, nori and spring onions.
Serve with any sweet or sour pickles.