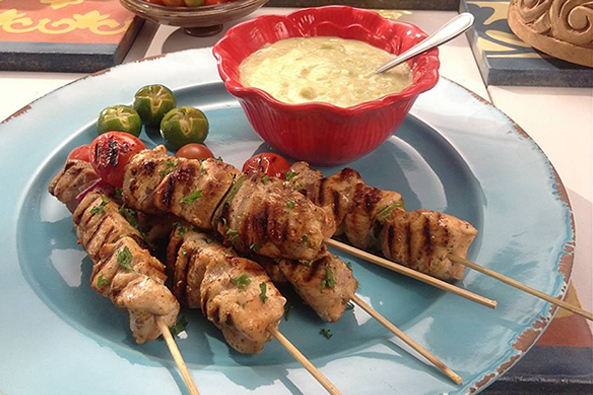 My version of the Middle Eastern Kabab features strong flavors, but the avocado sauce will be the perfect complement to mellow them out. While Zatar may not be easy to find, you can replace it with your own combo of dried herbs, like oregano, thyme, parsley, sesame seeds etc. Beef, pork and seafood would be great for this recipe as well.
Ingredients (serves 4)
4 chicken breasts, cut into cubes
1 green pepper, cut into cubes
1 red onion, cut into eighths
4 cherry tomatoes
1 tbsp Zatar
1 tsp ginger powder
1 tsp cayenne pepper
2 tbsps olive oil
1 avocado
½ cup plain yoghurt
2 tsps garlic, minced
salt and pepper
Directions
1. Marinate the chicken breasts with the zatar, ginger, cayenne, olive oil, salt and pepper.
2. Skewer the chicken and vegetables, alternating between two chicken cubes and a vegetable.
3. Grill the skewers until chicken is fully cooked, about 3 minutes on each side.
4. In bowl, combine garlic, avocado and yoghurt, Mix well to mash avocado. Season with salt and pepper.
5. Serve skewers with avocado yoghurt on the side.