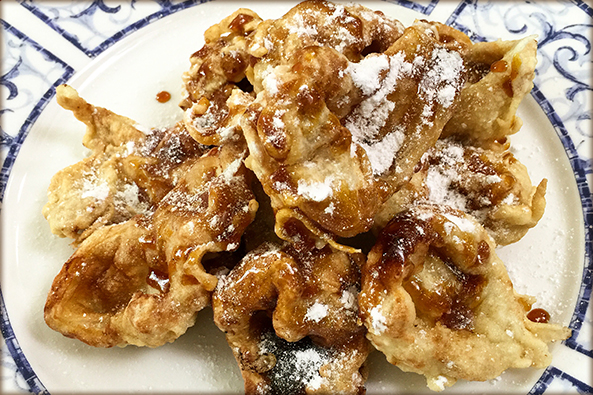 I discovered Cempedak while staying Penang, and they are every bit as, shall we say, fragrant, as Durian or Jack Fruit or Marang. The meat inside are pods with seeds, like a Jack Fruit or Marang, but it has a creamier texture that reminds me of Durian. Gula Melaka can be substituted with muscovado if unavailable. Of course, Cempedak may be hard to find in some places, but you can easily replace with Jack Fruit or Marang. Thinking about a milder smelling fruit? Try Apples or Pears, but the experience will just not be the same.
Ingredients (serves 4)
12 pcs cempedak meat or jackfruit meat, deseeded
1 cup rice flour or all purpose flour
1 egg
1 cup ice water
200 g gula melaka or palm sugar
200 ml water
1/2 cup coconut milk
oil for deep frying
powdered sugar for garnish
Directions
In a pot, combine sugar and water and bring to a boil. Simmer until half of the water has been reduced. Shut off heat and pour in coconut milk.
In a bowl, combine the flour, egg and just enough water to form a frying batter.
Dip the fruits in the batter and fry until golden.
Serve the fritters with the sauce and some powdered sugar on top.