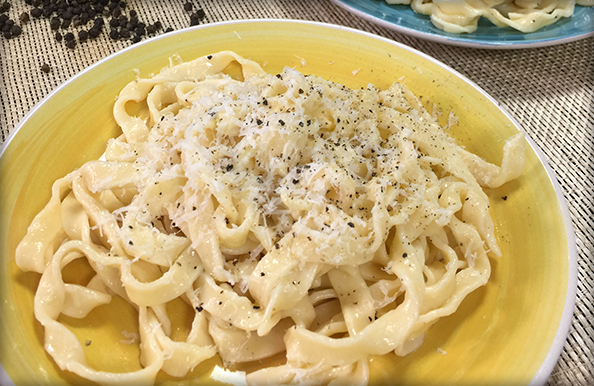 Once I checked Mariel de Leon's Instagram feed, I immediately knew what to cook for her. She posted about how much she missed eating Cacio e Pepe, and I immediately got to work on my version of the recipe. Of course, I don't claim to be a pasta expert, but I say this one's pretty good.
Ingredients (serves 2)
4 tbsps extra virgin olive oil
salt and freshly cracked black pepper to taste
1 cup pecorino romano cheese, finely grated
200 g linguine or spaghetti
Directions
In a sauce pan, heat up the oil with freshly cracked black pepper. Shut off the heat once the oil starts fry the peppercorns.
Cook the pasta in salted boiling water.
In a bowl, combine the cheese, some salt, the olive oil and 2 tbsps of the pasta cooking water.
Once cooked, add the pasta to the bowl of cheese and mix thoroughly.
Before serving, garnish the pasta with more grated cheese and cracked pepper to taste.