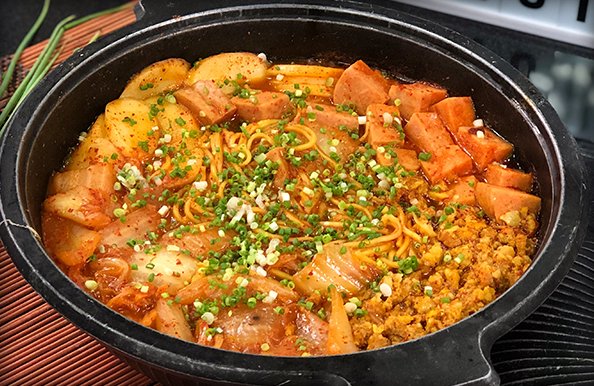 Cooking for the love guru on radio Papa Bol meant I wanted to have something spicy, but also easily accessible, which is what made his radio talk show so successful. Korean Army Stew is a dish whose history fascinates me, but more importantly, it is delicious. A lot of the ingredients can be easily replaced, spam can be turned to hot dogs, longganisa into corned beef. You can add eggs or even sliced American cheese. There are no rules! Just like love!
Ingredients (serves 3-4)
200 g dried egg noodles
200 g cabbage kimchi, rough chopped
6 links (200 g) Vigan longganisa, skins removed (you may use other kinds of longganisa)
200 g low sodium Spam or other luncheon meat, sliced into cubes
200 g tteokbokki (sliced rice cakes)
2 tbsps gochugaru (Korean red pepper powder)
1 tbsp soy sauce
1 tbsp of doenjiang (Korean fermented bean paste)
2 tbsps sugar
1 L of water (plus an additional 250 ml just in case)
2 stalks of leek, sliced thinly for garnish
Directions
Direction
In a wide pot or wok, place the noodles at the center.
Surround the noodles with kimchi, longganisa, Spam and rice cakes, arranging each ingredient into neat piles.
In a small bowl, combine the red pepper powder, bean paste, sugar, soy sauce and a tbsp of water. Mix well to form a paste.
Pour the paste all over the ingredients. Then, pour in a liter of water.
Bring to a boil and let simmer for 6-8 minutes or until the noodles and rice cakes are fully cooked but still al dente.
Top with sliced leeks and serve immediately.