"Can we take out the celebrity chef from the intro, please?" Sharwin Tee requested with a smile.
We were about to start taping a cooking segment in a Shopping Channel, where Sharwin was guesting, and the young hosts of the channel were rehearsing their lines. Perhaps he was embarrassed with the word "celebrity", which evoked images of flashing lights, paparazzi, fans with placards and weekly tabloid space in gossip columns.
And Sharwin Tee, his persona on television, comes nothing close to that. While it is true, he won Lifestyle Network's Clash of the Toque-en-ones back in 2010, a talent search for the next big TV cooking show chef-host, Sharwin's "showbiz streak" goes as far as being seen on television.
In his show, Curiosity Got the Chef, Sharwin's your friendly neighbor, old acquaintance, new friend, or that chummy classmate in high school who cracked jokes and won the teachers' favor. He's letting you in to see what he's up to now: what sumptuous feast he's whipping up and who's coming over to eat his food. It's that casual, uncomplicated – the antithesis of a celebrity.
Yet, after four seasons of CGTC, Chef Sharwin Tee is moving on to what celebrity chefs do: release a cookbook! Launched last October 17 at National Book Store in Glorietta, Curiosity Got the Chef: The Cookbook is a glossy, full-colored book, containing 35 recipes from Season 1.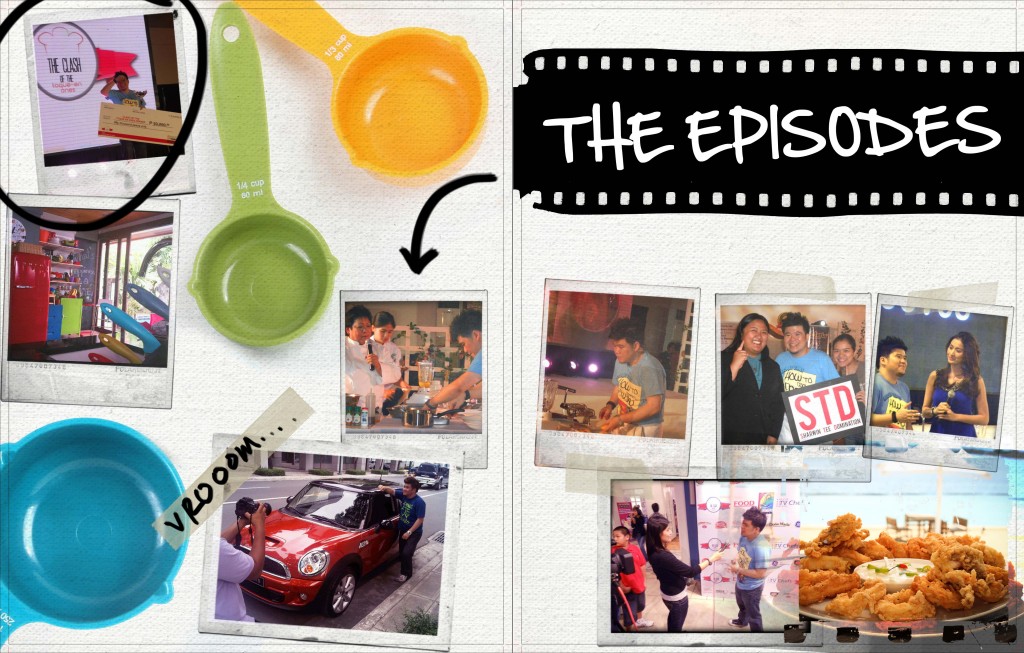 Flipping through the pages
Reading Curiosity Cookbook is less like reading a step-by-step recipe book than a scrapbook.
Chapters are divided according to Season 1 episodes (plus bonus recipes from the dishes that landed him his win at Clash of the Toque-en-ones).
Instead of presenting the recipes straight, like the usual cookbooks, Sharwin warms things up by telling the backstories of each episode.
In "What's Happiness on a Plate?", Sharwin takes us to his nerve-wracking first day of shoot for the very first episode of the show, as he gives us a whiff of what makes comfort food for him.
As a sports fanatic (in fact, he has a sports blog, which was nominated for a blog award before), Sharwin includes lip-smacking food we love to eat when we watch sports in the chapter "Game Day Game Plan".
But if I were to name favorites, it would be "Early Chef Gets First Bite", the episode where Sharwin feels "everything really came together" (not to mention, the cinematography of outdoor breakfast seemed stunning and the breakfast food looked yummy and easy to make), and "Home Sweet Home", where Sharwin tweaks local cuisine. This makes it to my Top 2, because this has since become what Sharwin Tee is known for – raising the bar of Pinoy food and giving quirky twists and modern takes to traditional fare.
What makes Curiosity Cookbook thoroughly enjoyable, besides the mouthwatering recipes and photos, are Sharwin's stories about the show, his passion and where he gets his ideas for his quirky cuisine. Somehow, through the bits and pieces of trivia and back stories, including being locked inside the set's bathroom, the heated up oil bursting into flames, consuming dozens of bacon and mugs and mugs of coffee, paying tribute to "Wok with Yan", visiting his hometown Davao, the reader gets to "dish out the hokey stuff" from Sharwin. You'll like him all the more for it.
Celebrity chef or not, Curiosity Got the Chef's Sharwin Tee has become a staple in our TVs, our kitchens and now, in our book shelves.
Curiosity Got the Chef: The Cookbook is available in all National Book Stores nationwide at P250. It was published by Lifestyle Network and distributed by ABS-CBN Publishing, Inc.
(Source: http://thepoc.net/index.php/book-review-sharwin-tees-curiosity-got-the-chef/)