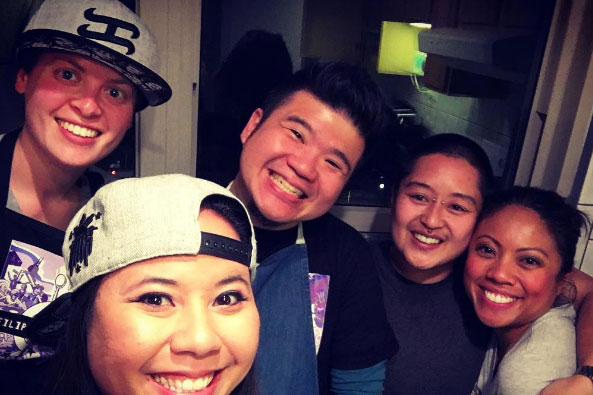 Team Isang Araw touched down in Chicago and made a beeline for midnight diner food. It wasn't anything to write home about, but not to worry, we were getting Doughnut Vault in the morning!
No we weren't. They sold out. Still, Rick Bayless's Xoco was nearby and a good backup plan.
No it wasn't. They were closed. Donuts for breakfast became Sunday for lunch. Not what we planned, but still a damned fine meal.
We took our resulting food babies strolling on the Mag Mile, where Natalia and I peer pressured Sharwin into buying some very red shoes and they in turn peer pressured me into buying three pairs of socks. (Full disclosure: I was stuck on Indecision 2016 so Natalia bought my socks for me because that's what friends do.)
Since we made Sharwin deplete his fun money on shoes we figured we owed it to him to indulge his curiosity about Eataly. As a card-carrying food nerd, he wandered the aisles and pushed the limit on free samples at the meat counter. He returned to our table with a package of coppa. I burst into a chorus of "Copabanana."
We'd run ourselves ragged, but hurried home so we could get a jumpstart on Doughnut Vault in the morning.
False. Those bastards sold out again. We ate our feelings at Little Goat Diner, where Sharwin's burger was the actual size of his head.
Since we had some time to kill before scooping up visiting photographer pal Bryan Alano, we took our food babies to see the animals at the zoo. There was a general feeling of contempt for the children harassing the zebras, but we'd pretty much gotten over it by the time we got to Honey Butter Fried Chicken for dinner that evening. To properly recover from the existential dread, though, we needed air hockey. Lots of it.
People tend not to believe me when I tell them air hockey sends me into a flow state. Then I mop the floor with them. In all honesty, Sharwin is a worthy opponent and I respect his love of the game. I have plenty more Emporium tokens anytime he wants a rematch.
The Great Doughnut Drought of 2016 ended the next morning when we finally hauled our sorry carcasses to River North before nine o'clock. Third time's the charm, right? We took our half dozen old fashioneds back to Natalia's to work on finalizing the drink pairings for Sharwin's menu and rewarded ourselves with tickets to Batman v Superman. Some healthy debate and copious eye rolling about the movie took place over dinner at The Radler, where some true gentlemen at the next table donated their leftover beer to us. Bless them.
Our real work began on Good Friday with hours spent in multiple grocery stores and the kitchen at Sarah's condo. In typical fashion, most of our guests bought their tickets at the eleventh hour, wreaking havoc on Natalia's blood pressure. But with no expiration on our access to the event space, we were able to sit around with our guests after dinner on Saturday and tell war stories of life in the pop-up trenches. Best of all, there was nary an adobo incident in sight.
 Since a successful pop-up dinner warrants fancy brunch, we spent Easter eating piggie by the pound at Son of a Butcher and Macau rice crisps across the street at Fat Rice, then succumbing to our food comas on Natalia's bedroom floor. All in a day's work.
The final stop on Sharwin's Chicago tour was a Bulls game Monday night. As a lifetime basketball fan, he'd bought his expensive second-level ticket weeks in advance. We bought our season ticket resales up in the nosebleeds the night before. We didn't get to sit with him, but it was all the better since he's a turncoat and rooted for the Hawks. Let's be real–he was a liability. We were only half joking when we threatened to leave him at United Center after the Bulls lost.
Out of the goodness of our hearts, we allowed Sharwin to remain part of the group and bid him fond farewell when he headed for the airport. Until next time, nerd.
(Source: http://filipino.kitchen/article/blooper-reel-isang-araw-part-ii)