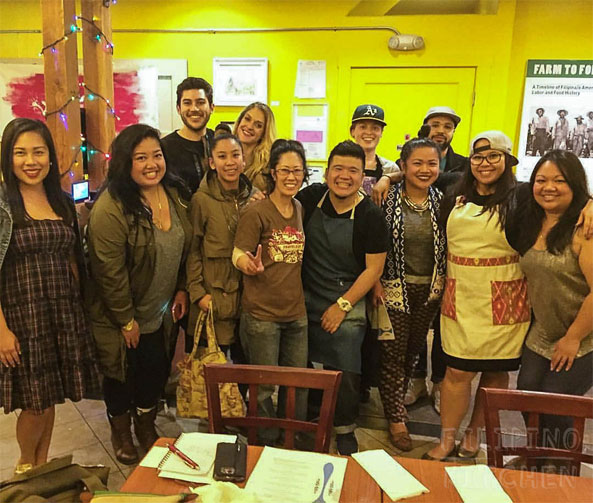 Sarahlynn and Natalia met Chef Sharwin Tee in Manila during their respective trips home to the Philippines.
I met him in the parking lot of a Burger King off International Boulevard in Oakland.
By the time Natalia and I picked Sharwin up at our agreed-upon meeting place, we had already flown from Chicago at 6:30 that morning, set off the alarm of my dad's borrowed Volt in the driveway and made Google Maps recalculate our route at least twice.
But we made it to the Burger King, got acquainted and settled into the now-docile hybrid. On the way to lunch we passed Sharwin's accommodations at the Continental Lodge.
"This is where you stayed?!" I was aghast.
"It was the cheapest I could find!" he explained. "I asked the cab driver if I could walk to any restaurants and instead he drove me to a taco truck and waited for me while I got my food. Then he dropped me off."
Good lookin' out.
In similar fashion, that night our Bayani Art pal Joe took us to dinner at Oakland's oldest Mexican restaurant, conveniently located across the street from the Alameda County jail, and we finished the evening with drinks at an Alameda townie bar. Responsibly, of course.
Except not really, because with a couchsurfing chef in town and an event to prep for, we had to cram all our tourism into a single day. We made a quick stop at Pampalasa to meet owner Jennifer Villamin and check out the space for our pop-up. Onward to drive down the curvy part of Lombard Street like a bunch of assholes, although I'll allow that the resulting hyperlapse video was pretty sweet, and walk around the lagoon at the Palace of Fine Arts, where I helpfully climbed a tree to model our merchandise.
We dodged selfie sticks at the Golden Gate Bridge and wended our way to Pier 39 to satisfy Sharwin's deep longing for a bucket of donuts. With thirty-six mini donuts per bucket, mathematically we should each have eaten a dozen. I will decline to state the actual division of the assets. Since it was St. Patrick's Day I suggested The Buena Vista Cafe for dinner–really I just wanted a bunch of Irish coffee to squash the donut rebellion then taking place in my stomach. Several cocktails and an interview with Asian Journal later we realized we'd forgotten to attend an event at the Asian Art Museum. I hope they'll accept our apologies and consider our ticket purchases a donation.
Sights seen. Time to shop. We knew our day of groceries would take us on a multi-store odyssey up and down 880, so we swung by the school where my mom teaches to borrow her coolers. Natalia and I tried to see how many people at 99 Ranch we could get to respond to "HSSST" (answer: four) and sang along to "As Long as You Love Me" at Seafood City. I made my first pilgrimage to Jollibee, where I ate my Filipino spaghetti like a Sicilian.
Sitting in traffic back to Alameda, we traded memories and performances of various commercial jingles, both Filipino and American. I don't mind saying that my rendition of United Auto Insurance was particularly moving.
Back at the homestead, I climbed the orange tree in the front yard to pick the fruit we'd need for Sharwin's spicy chocolate leche flan. Natalia caught the oranges I dropped from the uppermost branches and finally hollered, "That's enough, Caity, you can come down!"
"No. I'm a tree person now."
Eventually I returned to earth, picking twigs from my hair. Sharwin and I started prep while Natalia met again with Bayani Art until we adjourned for tacos and a pitcher of margaritas (top shelf, no salt, k thanks).
Saturday was all prep, all the time. Sunday morning: same prep time, same prep channel. In the afternoon we Tetrissed the hell out of my dad's Volt and headed to Pampalasa. We got princess parking right in front, had a few media interviews and started service. Everything was peachy, right up until the third course.
"Where's the adobo?"
"I can't find it."
"What do you mean you can't find it?"
The three of us left the kitchen en masse for a huddle in the walk-in. Where was the adobo? Nowhere was the adobo. The adobo had vanished.
By some miracle, Pampalasa had adobo leftover from its own brunch service. We asked Jen if we could buy it and in ten minutes had it shredded, heated and ready for plating. Sharwin called the dish a collaboration and I breathed for the first time in what felt like days.
Adobo incident aside (we later found it in my fridge at home, oops), service went well enough. We did our customary feet-up, charcuterie-out event recovery on my living room floor. The following morning we had our friend Denise over for brunch with the ulterior motive of unloading our excess food on her. She took it like a champ and gave us a lift to the airport. What a gal.
(Source: http://filipino.kitchen/article/blooper-reel-isang-araw-part-i)