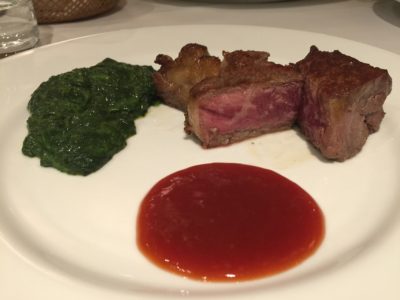 Who:  Restaurant is by Wolfgang Zweiner, original owner of the US franchise, along with local partners Raymond Magdaluyo and Marvin Agustin.
What: Classic American Steakhouse with a fully-stocked bar and mixologist plus a whiskey and cigar room.
When: Open for Lunch and Dinner from 12 pm to 12 am (except for weekends when they open at 10 am)
Where: 2nd Floor, Newport Mall, Resorts World Manila. Parking available at the casino hotel, and at the mall.
How: Service is very good.  Servers look happy to serve, alert yet unobtrusive.  They know their menu and are ready to give their recommendations for the undecided.
Most interesting dishes I liked: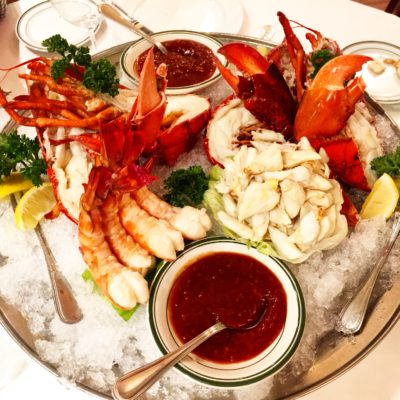 Seafood Platter 
Fresh seafood, cocktail sauce and lemon.  If     you're a big fan of cooked, cold shellfish with cocktail sauce like me, this is it for you.  Seafood's all cooked well, crabmeat and prawns have been extracted from the shells and lobsters cut in half, so it's easy to eat too!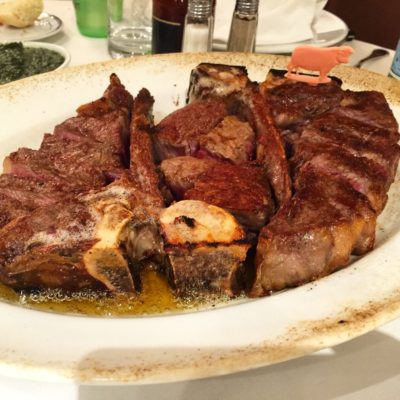 Porterhouse Steak
Of course, this beautiful hunk of USDA Prime Beef, aged in house in the restaurant's aging room must be ordered.  It's only a matter of size.  If this is the only thing you order (which shouldn't be) "Good for 2" will be good for 2, but if you have anything else, it could easily stretch to 3 or 4. Steaks are broiled nicely and they get the difference between medium rare and medium which is a great thing for us diners.  As the cuts of steak are huge, I really don't recommend going further than medium. Don't forget the steak sauce! Holy cow that's good.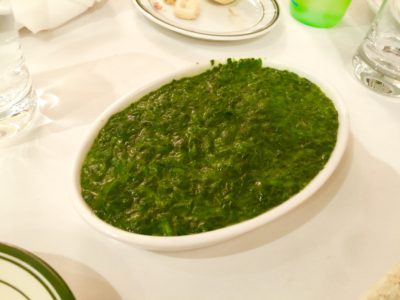 Creamed Spinach
There are plenty of sides to order, but I recommend this one.  Spinach is cooked well with just the right amount of cream.  It is easily, one of the best ways to make your kids eat vegetables.
Why: Food is great, and so are the ambiance and the service.  It's as competent an American Steakhouse as you'll find the U.S. and so far, I love it.  It is on the pricey side, though, but this is the place to go when celebrating one of life's victories or occasions. I will be back.
Deets: I visited the place 2 times, once anonymously with 3 other friends, and once with 2 friends and their young children and both times we paid for our meal fully.  Just to be fair, I became friends with the Marketing Manager and the mixologist before either of them worked here, in case you're wondering.  On my second visit, I was also given a chance to see the beef aging room and the kitchen.