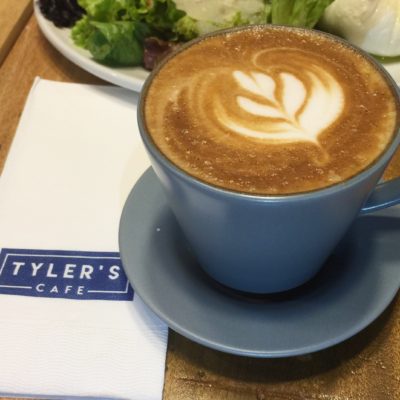 Who:  It's run by Jutes and Cello Templo, the same couple who does Gino's Brick Oven Pizza and Cello's Doughnuts
What: An all-day breakfast and coffee restaurant
When: 7 am to 8 pm (drinks still available until 10 pm)
Where: 317 Katipunan Avenue, Quezon City
How: Service is very friendly and efficient, with the servers knowledgeable about the menu items, a hallmark of both Gino's and Cello's as well.  The place has a clean bright feel to it, which is perfect to connote a sunny breakfast place. I'm not a coffee expert, which means I won't attempt to fake my way to review of their coffee offerings, but let me say this.  I actually enjoyed the flat white!
Most interesting dishes I liked: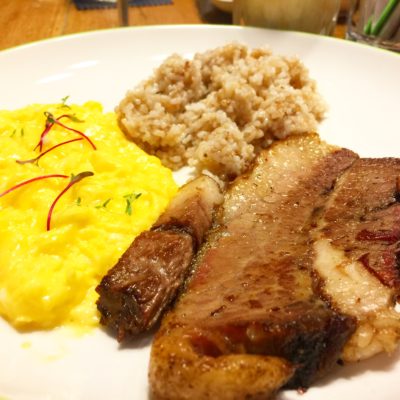 Smoked Brisket, Eggs and Rice – If there is ever a dish that chefs would kill for after a tough day, this is it.  Brisket is smoked for a perfectly long time, making it tender and smoky.  The rice is cooked in the beef fat, making it both evil and delicious (two things I always look for in dishes) and the eggs, whether sunny side up or scrambled, are cooked to perfection.  It's a simple but delicious dish, and it spells comfort immediately after your first bite. You can order this with Thick Cut Bacon and like the brisket, is house-smoked and freakin' delicious.  They add a touch of Gino's spicy honey so the bacon has a great balance of salty, sweet and spicy.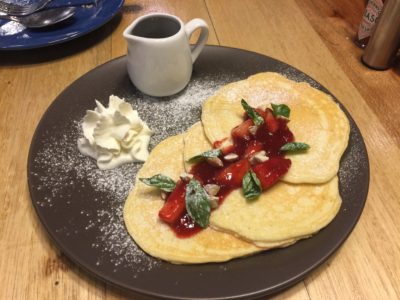 Ricotta Pancakes– On first glance, the pancakes look a little thin, but don't sleep on these.  They are fluffy, creamy and simply one of my most favorite pancakes in the metro. The addition of strawberry and basil cuts through the sweetness from the pancakes and syrup.  I hate waking up early, but I may make an exception on these pancakes.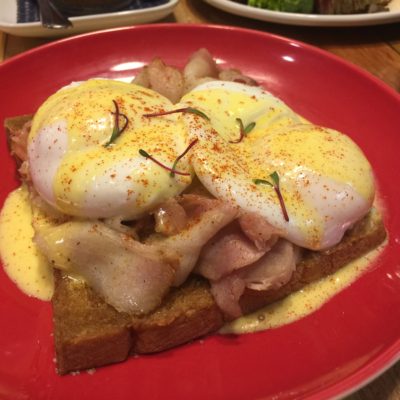 Eggs Benedict – Certain dishes may be timeless but they are also tremendously difficult to make, like eggs benedict.  It's easy to make poached eggs with runny yolks, as many restaurants do it now, but perfectly poached eggs should have a runny yolk that's thick like a sauce and they get it right here.  With their house bacon and a hollandaise, it can't be beat.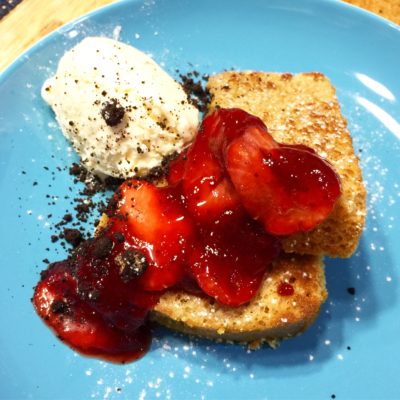 Strawberry – It's named after the fruit, but really it's a brown butter almond cake that goes well with the homemade vanilla ice cream.  Brown butter makes the cake moist and nutty and together with the ice cream, it's a perfect dessert for anyone, even those that don't love sweet things.
Why:  As with their other restaurants, the Templos have kept the menu smaller but very focused, with everything well-made.  A good host of their ingredients are house made too which only bodes well for how fresh the food is here. I'm definitely heading back.  The only question is how many times.
Deets: I visited the place 3 separate times, once during the pre opening (where I did not pay for the food), twice with friends where I either paid for everything or split the bill.  I am also close friends with both the owners.