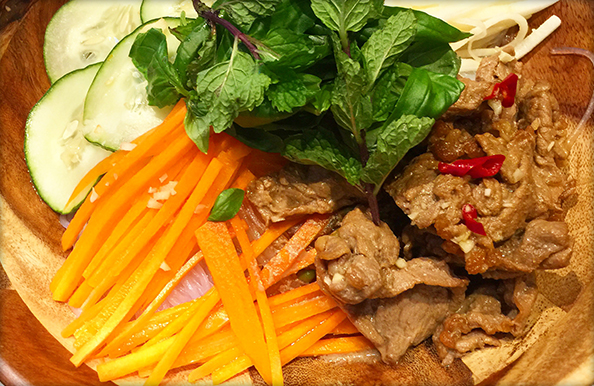 Inspired by Vietnamese food and my own love for beef tapa, this is a great recipe for hot summer days as the salad cools you off and it is light and zesty as well. The fish sauce and calamansi add lots of strong flavors without packing too much fat.
Ingredients (serves 4)
500 g beef sirloin, sliced sukiyaki style
1/4 cup soy sauce
6 calamansi
1 tbsp coconut vinegar
1 tsp honey
2 cups vermicelli noodles, rehydrated in warm water
1 small carrot, sliced julienne
1/2 small jicama, sliced julienne
1 bunch fresh basil
1 bunch fresh mint
1/2 cucumber, sliced thinly
for the dressing:
1/4 cup water
4 calamansi
2 tbsps honey
2 tbsps fish sauce
1 clove minced garllic
1 sili labuyo, chopped
Directions
Marinate the beef in the soy sauce, juice of 6 calamansi, vinegar and 1 tsp honey for 30 minutes to an hour.
Combine all of the ingredients to make the dressing. Set aside.
Arrange each bowl with some vermicelli, carrots, jicama, basil, cucumber and mint.
Cook the beef over a pan, grill or griddle. Top each bowl with the beef. Serve with dressing on the side.