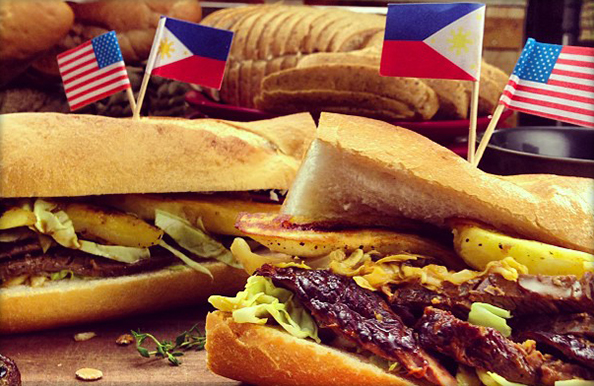 Pochero is a Filipino dish I love but not too many restaurants serve now. I love the combination of cardava (saba) bananas and beef and especially the broth that comes with it. This is a slightly more complicated sandwich than I'm used to, but it is so worth the effort. I personally like this way more than a normal French Dip Sandwich. Pork may be used to substitute but beef is best.
Ingredients (serves 4)
500 g beef brisket
½ large onion, sliced thinly
½ large carrot, sliced thinly
2 garlic cloves
1 tbsp tomato paste
500 ml chicken or beef stock
2 sprigs thyme
1 bay leaf
2 tbsps flour
1 cup cabbage
2 saba bananas
2 tbsps vegetable oil
1 french bread cut into four
salt, pepper and hot sauce to taste
Directions
In a pot, heat up the oil until smoking. Season beef with salt and pepper and sear both sides until golden brown. Remove the beef.
Saute onions, garlic and carrots in the same pot. Add in bay leaf, thyme and tomato paste. Saute until fragrant.
Sprinkle flour into the pot and cook until brown.
Add in beef and pour in the stock. Season with salt, hot sauce and pepper. Mix everything thoroughly. Let simmer for 2 hours or until beef is tender.
Meanwhile, slice saba into thin strips and fry until golden.
Remove beef from pot and strain the sauce. Add in the cabbage to cook for two minutes. Slice the beef thinly.
Assemble the sandwich by adding some sliced beef, cabbage and saba slices. Serve sauce on the side as a dip.