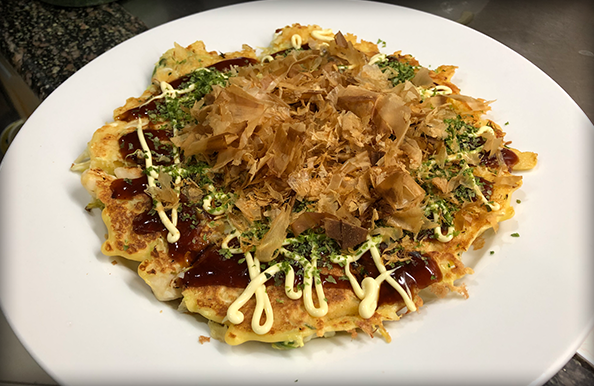 The first time I saw okonomiyaki, I was intimidated. It just looked so beautiful and difficult to make, but studying it, I found the basic version pretty easy to make. This will be a fun project to do with the family and you can go from adding bacon to going vegetarian in a snap! You do have to go to the Japanese grocery to get the toppings though. It'll be worth it.
Ingredients (serves 4)
100g all purpose flour
80 ml water
240 g cabbage, shredded
2 whole eggs
salt, sugar and pepper to taste
4 strips bacon (optional)
3 tbsps okonomiyaki or tonkatsu sauce
4 tbsps Japanese mayo
1 tbsp aonori or dried seaweed
1/2 cup bonito flakes
Directions
In a bowl, combine flour, water and eggs. Season with pinches of salt, sugar and black pepper. Add in the shredded cabbage.
On a griddle or flat wide pan, pour the cabbage mixture and spread it to form a 1 inch thick circle.
Lay the bacon strips side by side (if using) on the cabbage. Cook the pancake for 3-4 minutes over medium heat, until golden brown. Flip the pancake and cook for 3 minutes more.
When serving, top the okonomiyaki with the remaining ingredients artfully.