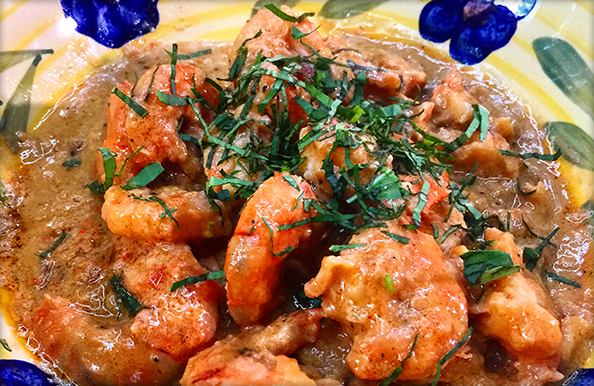 I admit I've never been to Louisiana, but when I do, this will be one of the first dishes I will try there. I love the flavor combination of shrimp, worcestershire and cream. While you can substitute the shrimps for fish or even chicken, you owe it to yourself to try this recipe with shrimps. It's that good.
Ingredients (serves 4)
1 kg suahe shrimp, peeled with shells set aside
1/2 onion, minced
2 cloves garlic, minced
2 calamansi
1/4 cup worcestershire sauce
2 cups water
1/4 cup rice wine
1 bay leaf
spice mix of cayenne pepper, paprika, garlic powder, dried thyme and dried oregano to taste
1 cup cream
2 tbsps butter
salt and pepper to taste
Directions
In a pot, saute onions and garlic until fragrant. Add in shrimp shells, calamansi juice, worcestershire, water, wine, bay leaf and spice mixture. Simmer for 30 minutes.
Season shrimp with salt, pepper and spice mix. Saute them in butter for 2 minutes.
Pour in some of the stock. Simmer until shrimp is fully cooked. Shut off the heat and pour in cream.
Serve immediately.