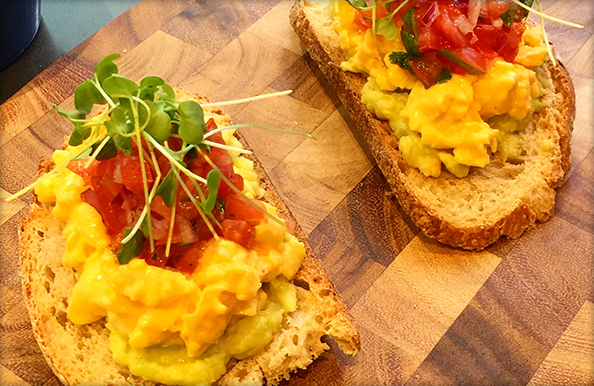 I know avocado toasts get a bad rap now since it blew up as a fad around the world, but it is still a great and healthful way to start the day. I recommend sour dough both for its health benefits and it's flavor, but any crusty bread will do well in this dish.
Ingredients (serves 2)
4 slices of sour dough bread
4 tbsps extra virgin olive oil
1 large avocado
1 clove of garlic, minced
2 calamansi
4 large eggs
1 tbsp sour cream
salt and pepper
for the tomato relish:
2 tomatoes, chopped
1/4 onion, minced
1/8 cup cilantro leaves, torn
1 calamansi
2 tbsps extra virgin olive oil
salt and pepper
Directions
To make the relish, combine the tomatoes, onions, cilantro olive oil and the juice of 1 calamansi.  Season with salt and pepper and set aside.
In a mortar and pestle or blender, combine avocado, juice of calamansi and garlic.  Season with salt and pepper. Set aside.
Cook the eggs in a pot, stirring constantly to scramble them.  Once they are half cooked, season with salt and pepper and bring back to the flame to cook for 30 seconds.  Add in sour cream and stir well.
Season bread with salt, pepper and olive oil and toast for 2-3 minutes.
Assemble by topping the bread with a spread of avocado, egg and then relish.