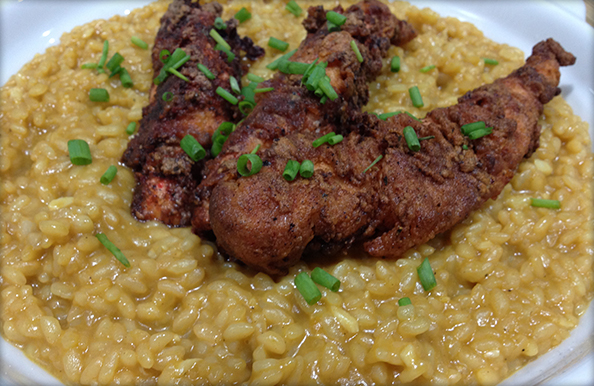 Is there a dish more comforting than a steaming bowl of Arroz Caldo or rice porridge? Very few and I think adding flavorful fried chicken on top would be one of those! Now 11 spices might seem a lot, but making a big batch of the spice mix and keeping it in an airtight container saves it for the next time you want to make fried chicken, which will be soon after you try it for the first time!
Ingredients (serves 4)
For the Chicken:
4 chicken breast fillets, sliced into strips for chicken fingers
125 ml plain yoghurt
For the 11 Spice Rub:
1 cup flour
1 tsp ground oregano
1 tsp chilli powder
1 tsp ground sage
1 tsp dried basil
1 tsp dried marjoram
1 tsp pepper
2 tsps salt
2 tbsps paprika
1 tsp onion powder
1 tsp garlic powder
1 tsp powdered mustard
For the Risotto:
11/2 cups Japanese rice
½ white onion, minced
2 cloves of garlic, minced
1 thumb sized nob of ginger, minced
1 L chicken broth
fish sauce to taste
2 pcs calamansi
4 stalks green onions
salt and black pepper to taste.
Directions
Marinate chicken in yoghurt.
Mix together the 11 spices and flour.
In a pot, saute onions garlic, ginger until fragrant.
Add in the rice and toast for 2 minutes.
Add 1 ladle of broth to the rice, mixing the rice well. Once dry, add in another ladle of broth. Repeat until the rice is all cooked.
Season with salt, pepper, patis and calamansi.
Cover chicken breast in seasoned flour. Deep fry.
Plate the risotto and top with chicken. Garnish with black pepper and green onions.